This is another recipe from The American Vegetarian Cookbook. (Did I tell you how much I love this book?) I had my in-laws here over the weekend, so I thought it would be a good meat-and-potato-lover's meal. I was planning on making lentil soup to go with it, but my MIL decided to order pizza despite my efforts to tell her that I had already planned the meals and that it was no trouble and that I enjoyed cooking for them! Then, I thought that she might not like lentil soup, so let her order pizza. The kids were thrilled.
Here's the salad recipe:
Potato-Lover's Salad
Salad
3 c. red potatoes, cut in 1/2-1 inch cubes and steamed 10-15 mins. or until just tender.
1 T. olive oil
1/4 tsp. minced garlic, or 1/4 tsp. garlic powder, or 1/4 tsp. chicken-flavored vegetable broth
6 c. Butter lettuce (also called Boston or Bibb lettuce), in 1/4 inch slivers
2 c. Romaine (I used a combo of Romaine and Baby Greens instead of the Butter lettuce.), Salad Bowl or Iceberg lettuce, in 1/4 inch slivers
2 c. coarsely chopped spinach
1 c. alfalfa sprouts
1 c. coarsely chopped sunflower sprouts (I couldn't find these and didn't have time to make them.)
1/2 c. finely slivered red cabbage or finely chopped tomato
3 c. thin broccoli florets, steamed until bright green and just tender, about 3-4 minutes
Dressing (I just let everyone choose from various dressings I had or freshly-squeezed lemon juice and a smidgen of olive oil.)
4 Tbsp. extra-virgin olive oil
2 Tbsp. dairy-free mayonnaise or Almonnaise (p. 98)
1 medium garlic clove, pressed
1 1/2 Tbsp. lemon juice
1/2 tsp. Dijon-style mustard (optional)
1/2 tsp. kelp powder or other salt-free seasoning
1/4 tsp. dried thyme
Freshly ground pepper to taste (optional)
1. Toss potatoes in olive oil and garlic and spread in a single layer on a cookie sheet. Place in preheated broiler and broil 4 inches from heat for 5 minutes, turning once, or until potatoes are crusty and golden.
2. Prepare dressing in a large salad bowl. Measure ingredients directly into bowl and beat until creamy with a whisk.
3. Add greens, sprouts and cabbage to bowl. Toss in potatoes and steamed broccoli. Toss very well.
Variation: Add 1 c. sliced onion rings to potatoes and toss together in the olive oil and garlic. Spread onion rings, halved, or quartered, on cookie sheet with potatoes and broil as indicated. Toss both into salad.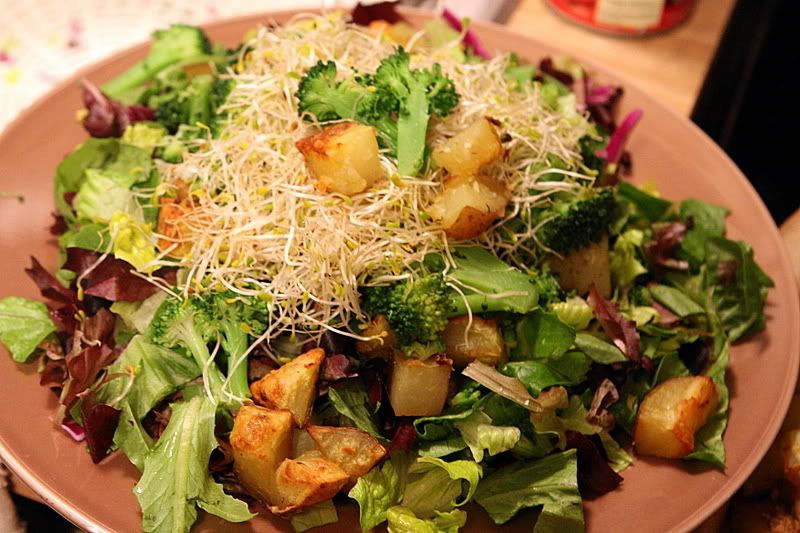 Remember that you can click on the pictures to enlarge them for more detail, if you'd like.