Well, today is the day I weigh myself. I am down 2 lbs. since last week. Not a big loss, but an expected one with the few slip-ups I had this week. I have been continuing my exercise with 30 mins. per day.

Last night for dinner, I made one of my favorite soups. I also had it for lunch today.


Firstly, I added to a large stock pot:


3 cups of sliced carrots
3 cups of sliced celery
1 white onion (2 probably would have been better, but we don't like onions too much)
1 1/2 cups of chopped cabbage leftover from a previous meal
2 small, shredded zucchini
1 large shredded yellow squash



Then, I added a whole quart box of vegetable broth and added water until it came up over the vegetables about an inch or so. To that, I added 2 cans of tomato sauce and a 7 oz. jar of tomato paste, 3 cans of kidney beans and about 2 Tablespoons of Italian seasoning.

I brought it to a boil and then simmered until the veggies softened a bit. Then, I added about 4 cups of broccoli, chopped in small pieces. Here is what the pot looked like at this point.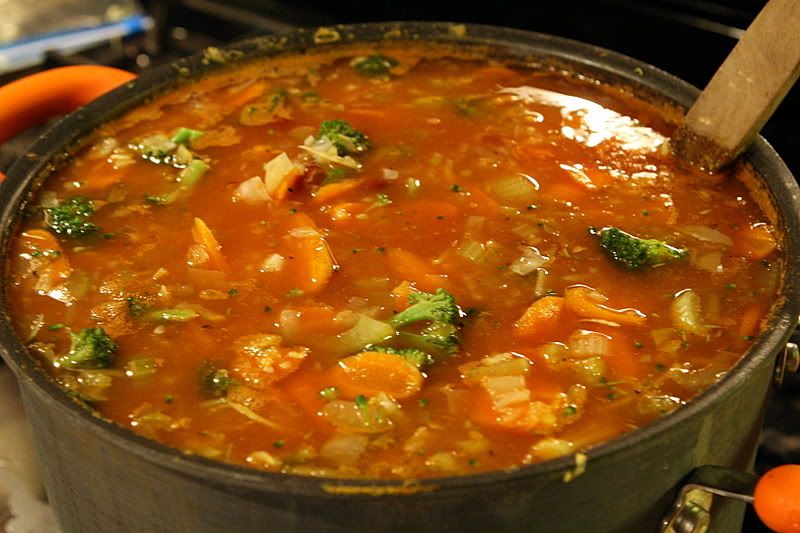 While the pot simmered, I chopped up a big head of kale and a bunch of parsley.

Then, I added it to the pot.....will it fit??


Yep! It fit and here is what it looks like after it's all stirred together.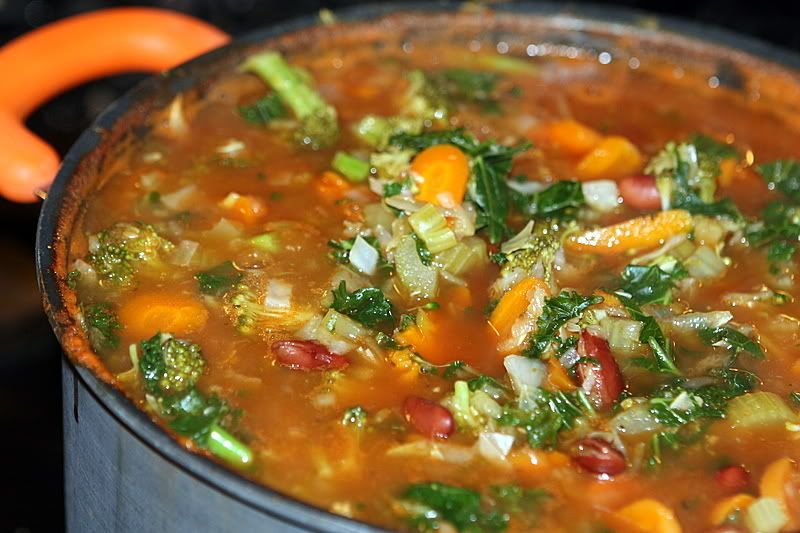 And then....served in a bowl.
Yum!
I also wanted to mention something that I made for Paul and the boys, a few days ago, that they all ate happily. I made them spaghetti with ground turkey breast and red sauce (I normally just give them veggie sauce, but Paul likes me to cook meat at least once a week.) and snuck some chopped baby spinach into it. I normally steam broccoli on the side, but I chopped it all up and just stirred it into the sauce to hide the spinach. My 15 yr. old will not drink smoothies with spinach in it, but he ate this without flinching! Of course, I didn't tell him I put spinach in it. Shhhhh!